Why good recruiters are like 'SWANS' – How to hire the right candidate for your business!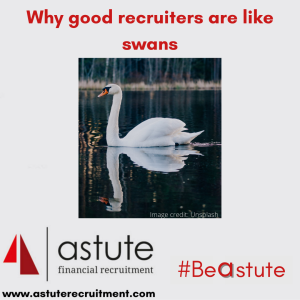 Good Recruiters are like swans. Clients and candidates should experience a smooth, calm recruitment process, and not see the way our legs are kicking madly under the water! Clients do need to realise that there is a lot of work that proper professional recruiters do behind the scenes though!
Take client 1.  Long-standing, and currently we are on an exclusive recruitment campaign to hire two permanent qualified accountants and appoint for a 12 month maternity leave Qualified Accountancy role for them. Open, regular dialogue with the hiring line managers as to our headhunting progress, ongoing guidance on the salary budget, and whether the annual salary for the roles is accurate market rate to entice the ideal profile of the candidate.
This strategy of clear communication and collaborative recruitment partnership means that we can achieve near 100% CV sent to interview requested ratio.
The client knows that for every single applicant forwarded to them, our team will have already contacted and reached out to many, many more potential candidates that did not make the grade. When headhunting, we will investigate if they are looking for a role, and challenge the candidates on their aspirations, technical financial skillset for these particular finance roles and 'team fit' to see if they align with our client's employee value proposition and ethics.
Our client knows that one CV in their inbox could have meant many man hours in the background, skilfully interviewing and deep diving into potential candidates' skills, experience, and career/ life aspirations.
The result? A seamless process whereby quality interviews take place, with smooth, transparent communication and honest, constructive feedback the whole way through.
Our client benefits from one agency acting as a true ambassador for their brilliant finance teams, with a justified expectation of quality not quantity of applicant.
Our candidates benefit from a targeted search that takes their aspirations AND their accountancy skills into account.
This is a recruitment partnership that has lasted many years.
Client 2/
A qualified accountant with specific industry sector background and key system skills was urgently required. Our client needed an incredibly quick turnaround and wanted to conduct interviews and ideally offer a suitable candidate within a week. The job was taken at 2pm on a Friday.
The consultant worked hard.
Very hard.
Conversations were had with over 100 potential candidates – most calls lasting 20 minutes, up to an hour.
The result? 4 x  CVs were in our client's inbox for Monday morning.
All were interviewed, one person was offered the role straight away with just a few days.
Scroll forward.
A friendly phone call to follow up as our bill was unpaid.
Why?
Our candidate was still in post – and very happy in the role. His boss was equally happy.
The reason for the bill not being was that they did not believe that we had 'worked hard enough on the role. They felt that just a couple of quick calls were made and that was it so expected a reduction in our fee as a result. They had not realised all the man-hours and dedicated time sourcing and speaking to potential candidates behind the scenes.
This is why Good Recruiters are like swans.
Clients and candidates should experience a smooth, calm recruitment process, and not see the hard work going on beneath the surface.
They should understand that there is a lot of work going on out of sight, to make that process seamless and smooth.
Good employees are also S.W.A.N.s too!
The SWAN formula is an acronym created by an executive recruiter, John Swan, and is a very useful tool to improve candidate selection processes.
Four Simple Letters:  S. W. A. N.
S 
SMART. Always look to recruit intelligent, smart people into your business/ team. But how can you measure the intelligence of a candidate? The answer is simple. Questions! Intelligent people tend to be more curious than average people.
Successful people are smart, especially when it comes to the skills and competencies required for their specific job. This is what Jim Collins meant in his business classic, Good to Great, when he wrote about "getting the right people in the right seats on the bus." People who have a gift for their particular job tend to work faster, make fewer mistakes, and are far more productive.
W
WORKS HARD. When recruiting, look for people who are willing to work hard and who have backgrounds and achievements that show how they have gone the extra mile and exceeded expectations. As we emerge from the pandemic, employers need staff who don't just work lots of hours. Instead they want employees who can work smarter and handle their workloads to deadlines. The years of presenteeism are fading away and rightly so.
People who actually want to "work hard" are more successful at their jobs. The basic rule is that "people don't change." A person who is unaccustomed to hard work is not suddenly going to transform under your supervision.
A
AMBITION. An excellent candidate is someone who wants to move ahead in life. Ambitious people are willing and eager to take additional training; they are already reading and studying and seeking opportunities to grow, both personally and professionally. They value continuous improvement and genuinely want to be the very best they can be.
This is not about only selecting candidates who want to be the FD of a Plc. It is the ambition to be the best at whatever level they are working at and the willingness to learn/ read/ train to become the best.
Candidates should be "ambitious" and able to demonstrate to you why they want this particular job.
We love this quote by Steve Miles, Vice Chairman of Heidrick & Struggles; "Don't seek a flame-chaser, find people who are anxious to be effective and ambitious about this assignment, not some future promotion or benefit. They have to live for today in that job, not chase the flame of future possibilities."
N
NICE. The likability of the candidate is a critical factor. Where this quality was once mainly prized in customer service/ public facing jobs, being 'kind' is a highly valued strength in people applying for all levels of employment and professions. Whether in finance, accountancy, or other professions, employers are looking for people who they can work with and who can share and believe in their team values, and who they like. Team fit is one of the most consistently important attributes that our clients are looking for.
When we say "nice," we mean people who are cheerful, positive, easy to get along with, and supportive of others. They fit within the culture of your organisation. Their beliefs are in alignment with your values and the customers your organisation serves.
In the final analysis, your ability to pick the right people for your team is the key to motivation. You cannot hire the wrong people and then expect to motivate them to be excellent performers for your team. You need to look hard for your 'A' players, or use an 'astute' recruitment expert who can do a thorough search for you!
The saying, 'measure twice, cut once' is particularly true in the world of recruitment.
Other blogs you may be interested in: –
Candidate Blogs 
Client Blogs
If you would like to discuss anything regarding this article or any of our other articles, please  email mary.maguire@astuterecruitment.com