Why recruiting the right people at the right time is key for success!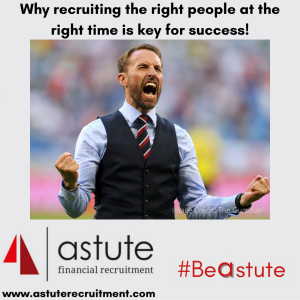 Recruiting the right team will get the right results.
Every time.
On a warm June evening, Gareth Southgate led his England team out onto the Wembley turf. To the thousands of England and German fans there in the balmy air plus the millions watching on their TV screens, it promised to be an exciting evening and did not disappoint.
But lets turn the clock back a couple of days, even a few short hours before the game. Football experts, home-spun armchair critics and fans were giving their opinions.
Play X on the left, leave y on the bench. The formation has to be 3 4 3 or 4 4 2 or other.
Gareth gave a brilliant lesson to all in management.
He was on the ground, and he knew his players inside out.
He had trained with them.
Laughed with them. Cried with them on many a day and game before that summer evening facing their German opponents.
He knew what each player was capable of and when to deploy their strengths.
A certain fresh pair of legs in the second half gave just the right blend of creative endeavor, skillful artistry, and sheer energy at just the right moment to make the maximum impact. 2 goals in just a few mesmerising minutes.
That is the lesson for managers in business. To recruit and use the right talent at the right time. To listen to your own instincts and be guided by the facts in front of you. To play to your team's strengths. Not to allow frustration to sap away energy when things seem to drag. Not to sacrifice the quality and professionalism of the team for a quick easy foul.
Instead, stick to your game plan, ensure that each member of your team knows their role inside out, what to do and when.
Most important of all, as a manager you are the creator of your team's destiny. To get that togetherness and will to win, not just for each player but for them to want to win for each other.
That's the true goal of every manager and the way for teams, whether in business or on the pitch, to win.