Do you know what time it is on your career clock?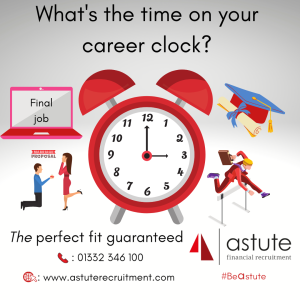 57,600. A special number. Why?
Not my salary 🤣
Not how many fans will be at the next game at Wembley ⚽🤞
Nope.
Give or take, 57,600 is the number of hours I've spent at work in my career spanning 30 years.
That's more than I've roughly spent with my family, friends and partners in all that time.
(happily married last 17 years👫).
I bet I'm not alone.
You can calculate your own career clock with some simple sums for fun.
But my serious point is, how much of my career clock is left? How much longer do I have to achieve my professional goals?
That's not such a large number for me. (I love my job, but I don't plan on working at 70 🧓). I am mindful that I only have a finite time left to achieve remaining professional goals.
If you do your sums, you can calculate how much of your very own career clock you have left.
The answer may surprise, appall or enthrall.
The difference between your 'time served' and ideal working career left tells you, in a nutshell, how long you have left to achieve your ambitions.
A time line. 
Most people don't think about this, wrapped up in layers of today's problems. But if you are thinking of changing job/ applying for that promotion/ studying for your CIMA/ACCA/ACA/ AAT or other professional exam, you absolutely should know what the time is on your personal career clock.
Everything you work for, the job you do now to the people you work for, the exams and qualifications you select to acquire, should be helping you to achieve your ultimate career goal.
Knowing your 'why am I doing this' will make sure you are doing the right job for the right reasons, at the right time for you.
It could be to secure a job with better work /life balance now, while the kids are small but with a business that can give you promotions and growth in the future?
It could be you are an aspiring FD and need a role offering more man management / controls / commercial or other experience to fill that skill gap on your cv.
"Better three hours too soon than a minute too late." – William Shakespeare.
As the Bard says, 'tis better to spend time waiting for the opportunity to take an action than miss the chance. But you need to recognise what those chances are, at the right time for you, seize them, and make those decisions to keep your life and career on track and on time.
The quote references Shakespeare's "The Merry Wives of Windsor", a character who suspects his wife's infidelity, but it could be applied to any situation when you need to take a chance to change things and not miss the opportunity.
So, what's the time left on your career clock?
It might just be the most important question for you and your professional aspirations!
If you would like confidential career advice you can contact Mary Maguire or our call our experienced team at Astute Recruitment Ltd on 01332 346 100.
An article by Mary Maguire, Managing Director
Astute | Accountancy & Finance | HR | Office Support
Suite One, Ground Floor West, Cardinal Square, 10 Nottingham Road, Derby, DE1 3QT
T: 01332 346100
M: 07717 412911
E:  mary.maguire@astuterecruitment.com
LI:  https://uk.linkedin.com/pub/mary-maguire/18/73/553