'You are not alone' Key message on today's Stress Awareness Day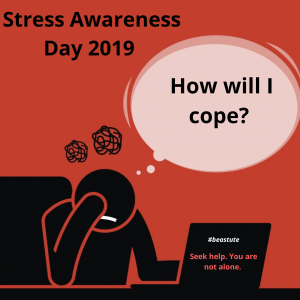 Its National Stress Awareness Day 2019.
Some stats from the Health and Safety Executive Department figures
The UK's economy lost a total of 12.8million workdays in 2018 solely due to stress
602,000 UK workers suffer from work-related mental issues such as depression and anxiety
44% of work-related sick days were caused by depression and anxiety
Stress Awareness Day on November 6th was created by the International Stress Management Association (ISMA). For 2019, Resilience is the theme – enabling people to employ key coping mechanisms when coping with the everday pressures of life – at work and at home.
FIRSTLY you need to gauge your own mental state – Ease that tornado of thoughts which make you start to feel anxious, take a step back.
Every Mind Matters has a five-questions quiz to help you have a clearer view of your mental health and for you to understand how 'stressed' you are..
Once you understand the state of your mental health you can begin to increase your resilience to your own, personal 'triggers'.
Mental Health charities such as Every Mind Matters and Mind provide more tips but have a go at these initial tips…you will need to practice these as for many these will be outside your comfort zone. It will be worth it though!
BE MORE STRAIGHTFORWARD and confident when dealing with people. If others are placing unreasonable or unrealistic demands on you, be prepared to say how you feel and to actually say "no". Practice saying no in front of a mirror. Baby steps. Work your way up.
USE RELAXATION TECHNIQUES – you know yourself what helps you unwind, whether a nice long soak in the bath, listening to your favourite podcast or playlist. Set aside the time to do this. Don't put this off. It is important you have 'me time' to properly relax.
ALLOW YOURSELF TO EXPLORE AND DEVELOP NEW HOBBIES AND INTERESTS. Set aside an activity that is totally removed from anything that causes you stress. This is a brilliant way to release you from everyday pressures. You are worth it. Stress can make people feel isolated and alone, but hobbies where you can interact with likeminded souls is a great way to meet new people, forge new friendships in a 'safe' environment that you can trust.
CREATE TIME FOR FRIENDS. Talking to friends about the things you find hard is proven to alleviate stress and can increase confidence and positive wellbeing. The act of talking helps keep your worries in proportion and can help your friends too. It is scientifically proven that laughter and smiling release produce chemical reactions in your body and brain – endorphins – that will help you relax and ultimately feel better.
SEEK BALANCE IN YOUR LIFE. Very hard for many of us, but if all of your time & energy seems to be sucked into your job or children its definitely time to look at ways of focussing on different areas whether family, hobbies or friends. Lack of diversity in life breeds discontent and often causes the seeds of anxiety and stress to grow.
KNOW THAT IT IS FINE TO SEEK PROFESSIONAL HELP. No man or woman is an island. All of us need to accept that from time to time it is OK to admit you need a bit of help and that may include medical support. Reach out to the NHS – they have several free therapies including Cognitive Behavioral Therapy (changing your thought process through 're-wiring your brain), Mindfulness (ensuring you are 'present' and 'in the moment') or Ecotherapy (channelling the soothing power of nature to help with mental health issues.) Your GP will be able to prescribe additional medication. If you feel like you need further care, you can talk to your GP. There are even Apps that you can access from your pocket smartphone. The NHS and Every Mind Matters recommend ones and click here to get these.
Above all, remember that although you may not feel like it, you are not alone and help is there for you.