Work Placement Experience – Charlotte Brake
We were delighted to be joined last week by Charlotte Brake who is currently in the Sixth Form at Landau Forte College. She had phoned last year to ask if we would consider her for work experience, and already impressed with her confidence, we were pleased to help.
Charlotte was very keen to learn, and with a very friendly and positive attitude – she fitted in perfectly!
Work experience is a vital part of a young person's learning experience, so it's important for employers to give students a taste of work/office life.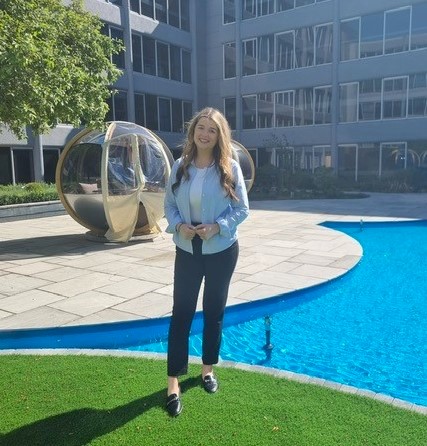 We asked Charlotte to write about her experience:
What have you learnt on your experience?
Besides understanding the office environment better and getting to grips with different recruitment processes, I have also learnt a lot about different financial job roles, and what different employers in varying industries look for. This has given me a great insight to my future and gave me lots of different options to think about, whether it's in recruitment, finance, or marketing.
What have you done?
I have shadowed work looking at senior roles for clients, including opportunities to get insights into what they want face to face over Microsoft Teams. I have also had more hands-on moments in several minor roles. This involved being given a vacancy and using different software and researching to find several candidates which I think may be suitable for the role. I was then able to review this with a consultant and get feedback on the work I had done.
What was the structure of your week?
Each day I had to arrive between 9 and 9:30am and left around 5pm. I was able to take an hour's lunch when I liked around the middle of the day. At the beginning of the week, I got a tour of the office and Mary introduced me to everyone. Since then, each day has given me a new challenge and something to look forward to.
Since your placement, would you pursue a career in recruitment?
I would certainly consider a job in recruitment. The constant communication with clients and candidates really appeals, and I love the idea of helping people through the employment process with interviews and offers. Astute has really opened my eyes in this and the finance industry, and I can't wait to benefit from the things I have learnt this week in the near future.
What has been your favourite thing about your week at Astute?
I have gotten expertise on editing my own CV, which has really helped me build my personal professional image. But mostly I have really enjoyed getting to know the people here, learning about how they got into recruitment, areas they specialise in and what they enjoy about their job. There is also not a day I haven't laughed; such a welcoming work environment has been super enjoyable!
What would you recommend for someone else doing a work placement for Astute in the future?
I would just say enjoy! Make the most of the opportunities given to interact with real life professionals. Likewise using common computer systems, getting used to the office environment and experiencing the learning on the job approach. My key tip would be to take notes on things you learn so you can refer to them further on in your placement.
What was the initial process to get onto your placement like?
I rang up Astute at the end of November to enquire about a work experience week for the following year in July. I think my confidence to ring really helped me out in terms of securing a placement, by showing my eagerness to learn. I then followed up with Mary in January and June to ensure everything was still okay to go ahead and ask her to fill in the forms for my sixth form. Mary was great at communicating and gave me all the information I needed in order to prepare. Mary also gave me lots of confidence going into this new environment, which really helped to settle my nerves on the first day!
What has been your biggest take away from this week?
My biggest takeaway from my week here has definitely been if you work hard, you see results. Everyone's work ethic here is so motivating, and the balance between professionalism and friendship is perfect. This is really reflected into each member of the team's customer service and attention to clients, and from listening to this I have learnt the importance of passion for hard working, and attention to detail for clients needs and wants. I strongly believe that this will positively influence my future work ethic and attitude towards work.