Why having a great profile on your CV matters?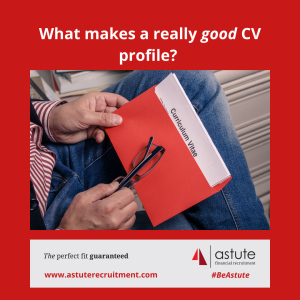 Your CV Profile –
Increasingly for candidates, anything that can flag a CV to a potential employer is great.
But what to include? What to specifically cite? How to keep things concise but genuinely show you have made a difference and why you stand out?
Below is part of the profile for an experienced Finance Director who Astute Recruitment has worked with for a number of years.
Experienced SME Finance Director with a proven track record of success, supporting strategic objectives with financial acumen and operational pragmatism.
Facilitated 'fundraise' with PE – pre and post-acquisition
Pro-active manager and influencer, empowering staff to take ownership
Providing coaching, training and mentoring to build cohesive teams and business partnering senior management.
Proven experience working alongside MDs and Senior management teams driving businesses forward
Focussed on achieving individual targets and company objectives and offering excellent relationship management skills.
Experienced in financial and corporate management to ensure the achievement of commercial goals within budget.
Extensive SME experience and management of external relationships with banks, insurers, suppliers and investors.
"Driving business projects to deliver business strategy".
This is someone who one of our Directors has personally known for a while and who has sat on both sides of the client/ candidate fence. Their words and the way they succinctly covered their key attributes was great and we wanted to share this.
The candidate identifies specific, key deliverables and specific, defined savings they have made to the business and specific ways they have delivered success in their previous roles. They did this citing in percentage terms, the differences to the profit and balance sheet of their company. Where they had saved time – they cited the exact amount of time. They were clear that they had taken ownership of the improvements cited.
Another key part of this is to ensure that all the Job Boards you are registered with and your LinkedIn profile also all reflect accurately the most up to date version of your CV. Often we discover a candidate's online profile varies to the latest CV they forward to us. Consistency in all things applies – especially in terms of your own candidate CV, personal profile and branding online.
For obvious reasons – we cannot state the identity of this eloquent person, as they are still in a permanent role!
Nor can we cite specific deliverables or critical success factors for confidentiality, but if you are reading this and your business needs someone like this – let our Qualified Team know and we will gladly facilitate an introduction!
We hope the above provides some inspiration for those struggling to write up / update their own profiles/ CVs.
Astute's Team! 
Richard Bowe – Senior Consultant Interim Qualified Accountancy
Tom Norton – Senior Consultant Permanent Qualified
Andy Lilliman – Recruitment Business Development Manager
Sarah-Louise Wykes – Manager, Interim Transactional Finance Staff, Part-Qualified to Qualified Accountants
Charlotte Sproat – Permanent Transactional Finance Staff, Part-Qualified to Qualified Accountants (Derby, South Derbyshire, North Leicestershire, Staffordshire, South Notts)
Debbie Jackson – Permanent Transactional Finance Staff, Part-Qualified to Qualified Accountants (Derby, North Derbyshire, North Nottinghamshire)