Why awards can help you win big. Some great advice for SME Business Owners.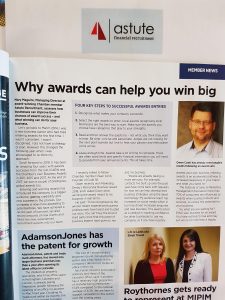 Mary Maguire, Managing Director at award-winning Chamber Member Astute Recruitment, assesses how business can improve their chances of award success – and what winning can do for your business. This article was featured in the EMC's Business Magazine.
Let's go back to March 2014. I was a new business owner who had tried entering awards for the first time. I wasn't consistent. I wasn't disciplines. I did not have a strategy or plan. However, this changed the following year when I was encouraged to re-think my approach.

Scroll forward to 2018. It has been an amazing four years with awards successes from the IoD, ICAEW and the Chamber's own Business Awards in 2011, 2015 and 2017. At the end of 2017, we won a couple of prestigious global awards too.

Entering and winning awards has introduced the company to a bigger audience, gaining credibility and new business in the process. Our company is now more appealing to potential hire. We have achieved a record year of turnover, secured record amounts of new clients and hire two new, experienced recruitment experts into our team.

I recently talked to fellow Chamber member Owen Conti, Founder of Code 56. Owen recently won Marketing Derby's Rising Star Business Award 2018, and I asked Owen what winning the award meant to his business in real terms.

He said: "To be recognised as the winner means experienced business professionals have heard and trusted our story. You can't buy that kind of third party trust that this panel of business leaders have given to me and my Business."

"People are already taking us more seriously. For example, contracts I have built up over the past year have come back with requests for how we can help develop their business strategies using the latest technology. "

"My audience reach has increased on social media which in turn has driven increased enquiries and new business. This award acted as a catalyst in inspiring confidence for other businesses to use my company, so if you have recently started your own business, entering awards is an accelerated pathway to increased awareness of your brand and what you stand for."

The institute of Sales & Marketing Management discovered more than 70% of consumers are influenced by awards when buying products and services, so unlock this potential for your business."
So, what are you waiting for? Enter your business for an award. You have nothing to lose and may just win a lot more than a trophy.
Four Key Steps to Successful Awards Entries
Recognise what makes your company successful.
Select the right awards to enter. Local awards recognising local businesses are the best way to start. Make sure the awards you choose have categories that play to your strengths.
Read and then answer the questions – not what you think they want to hear. Be clear, concise and passionate. Judges are not looking for the next poet laureate but love to hear your passion and enthusiasm come across.
Leave enough time. Awards take a lot of time to complete. There are often word limits and specific financial information you will need to provide from your annual accounts. This all takes Time.