How is your business giving young people a chance?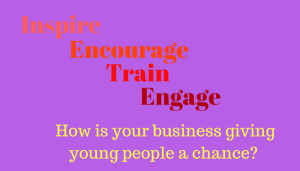 This year we were approached to see if we would like to have a local school's student for a weeks work experience. We feel passionate about giving young people a chance and would always encourage any businesses to give a young person the opportunity to gain valuable work experience. The impression of work life they will gain and the confidence to know what to expect in a typical working office will be invaluable for when they look to enter the employment market.
Over the last ten years we have had several apprentices join the team and develop. Sometimes going on to become permanent salaried staff, so it was our pleasure to have John Gravenor with us for a week. He put together the following words describing what he learnt about recruitment during his time with us and thought we would share this. Thank you Jon!
What have I learnt about recruitment consultants?
One of the main things I have learnt about recruitment consultants is that a recruitment consultant doesn't just help a person look for a job, they help a person find the best job possible for them, that they would be happy to work at as well as try and find the company the best possible candidate for the job. So, in summary it's a balancing act of trying to find the best candidate for a business but also finding the best job for the candidate. I also learnt that a recruitment consultant doesn't only help people looking for jobs between £15,000 to £30,000, they also help people that are looking for £100,000 and up. I was lucky enough to be allowed to sit in a meeting between Vijay and a very experienced man looking for £120,000 plus which goes to show that no matter how experienced a person is, everyone could always use a hand to make themselves seem more employable.
What have I learnt about Astute in particular?
Astute is much more focused on quality over quantity. Astute makes sure that a candidate is not only right for the job but also fully prepared for the interview and anything that could come after. Astute is in constant contact with the Candidate to check up on progress and make sure they are still happy with the job. Even after a candidate has secured a job, Astute continues to keep in contact with a candidate make sure everything is okay and the candidate is happy with the position they have.
What about the people at astute?
The people at Astute are very kind and inviting not only to me and each other but also candidates and companies. They are more compassionate than many of the other recruitment consultants as they spend time to get to know their candidate to ensure that they are completely happy with everything. Everyone at Astute is completely willing to go the extra step to make sure candidates are happy, which is something very rare in the bigger recruitment companies. The people at Astute are always motivated and willing to help at any point and they even try to help other people with their own money by holding charity events to help others even more. The people at Astute are also well rewarded for their work by Mary and Sarah with trips to F1 and other rewards.
Overall, I had a wonderful time at Astute Recruitment and will be sad to leave but will come back to do even more work experience if I am allowed
Jon Gravenor