What next for people, business and jobs? Support and advice to employers and workers.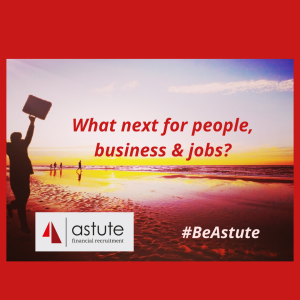 An article by Mary Maguire, MD, Astute Recruitment Ltd
Everyone everywhere has been touched, affected and humbled by the unfolding events. From Miami to Mumbai, from Derby to Damascus.
Politicians, scientists, and medical experts update us daily on our national progress 'beating the curve', what steps we need to take to protect our amazing NHS and sadly how many have succumbed. But, what next?
What is key to businesses, workers, Recruiters, and MDs is when can we get back to work? What will work look like? Will I be able to find a new job? How will my business survive? How can I feed my family/ pay my mortgage without an income?
It's natural and normal to feel anxiety, alarm, and stress on what is going on around us now. I feel it. Everyone does.
Thats an entirely normal reaction. But it isn't very constructive or inspiring or healthy to constantly dwell on the news feeds. Lets not focus on what's happened, instead, what can we do? What does the future hold?
We need to view our working futures and embrace a bold, new tomorrow. Learn from remote working, digest how much can be done by workers at home.
What can help everyone is thinking ahead.
Imagine what the new normal will be.
In your mind's eye, visualise you/ your business / your team working again. What could that look like?
I'll help.
First, companies and business owners.
It will be a completely different business climate compared to just a few, short months ago. Many companies and businesses were doing well, looking to expand, take up larger offices, increase the number of employees.
Others were having some difficulties but just about coping, having just enough 'in the bank'. For many, there was no contingency, no 'rainy day' cash for unforeseen situations. And my goodness, this needed a Noah's Ark of a contingency!
As we come out of this, working restrictions will slowly be lifted. Antigen tests will enable employers, employees and people everywhere to finally understand if they have/ hadn't had 'it' or if they are immune. As this gets rolled out, companies will have to maintain social distancing, but teams will be able to go back to work on a phased return. Many of them. All of them in time.
Employers will need to keep ahead of changes to employment contracts to cover working from home. Businesses will need to ensure the relevant insurance covers are in place to cover remote workers. HR experts like
Overhangs in business will mean remote working is a 'thing'. If nothing else, the myriad companies who have initiated, innovated IT enabling their employees, where possible, to work from home, can see that this flexible option can work, and work well. Presenteeism should finally be killed off.
Companies will benefit from a genuinely mobile, flexible workforce. Ongoing rotas with team meetings but with the flexibility to accommodate those who need to be at home, won't be frowned upon. Their bosses and work colleagues will know they are busy doing their jobs and are working hard in their offices at home. This is also an opportunity, as an employer, to show your staff you care, are fair and decent. If you can do this, your staff will never forget this and you will build the strongest bonds of loyalty in your workforce and retain talent.
Show your business cares about your employees. Having the empathy and time to understand the personal dilemmas faced by your staff, showing them you are there to support them psychologically and practically are key.
Ensure your balance sheet has some 'give', look to build trust with your suppliers, debtors and clients. Ensure protocols are in place if lockdown procedures have to come back. Preparedness and contingency planning will be essential. You need to be totally aligned with your Financial Director / Financial Controller and Senior Management team. Scrutinise your credit control processes. This is also an opportunity to build lasting relationships too with your suppliers by having proper negotiations on payment terms and perhaps temporary measures. Help your suppliers to help you.
Ensure your customers KNOW you are still in business. This is a biggie. Use great local businesses like Mark Saxby, at Derby's Status Social to professionally keep your brand alive, online and seen by potential clients and customers.
Create useful, impactful content but always be mindful not to appear arrogant, ignorant and ill-tuned to businesses and people currently having a very hard time. Have opinions by all means, but you need to make sure not to damage your brand inadvertently.
Unsure about content creation? Organisations including East Midland's Love Business, East Midlands Chamber, Marketing Derby  are experts in business and can put you in touch with marketing content writers, often local businesses in your local area. Remember, you need to try and ensure your customers know you exist and are ready to help them when they need your service. You need to keep your brand and team alive and in the thoughts of your potential, target customers while the lockdown continues and consistently after the lockdown starts to be lifted. Now is not the time to furlough your marketing team.
Take heart too. The demands for services, retailers, manufacturers, builders, engineers and suppliers WILL return. So those companies that have used the Government's support mechanisms and been able to utilise their accountants and credit control teams to bolster cash, WILL be in demand.
The dreaded B word, 'Banks'. Many, many business owners, Financial Directors, CFOs and MDs have said that the Banks continue to be very nervous about lending and not as helpful as the government or the business community would like. Some much more friendly banks to approach who appear to be much more helpful are HSBC, Allied Irish Bank and Natwest.
What about employees?
Workers are beginning to realise to know just how big a seismic shift economically, socially and psychologically has been created. There is no magic bullet to get us back to where we were before. Instead, online communications via Microsoft Teams, Skype or Zoom will be key. If you haven't already used one of these, check them out. This will be a much greater part of our working world as we move forward.
Create a household timetable. Set alarms to ping for regular breaks from work. Many, many people I've spoken to have struggled to work on their own and have found themselves working 4 or 5 hours without a rest. No usual office distractions are great to create focus to get projects and key work done, but it's not healthy mentally or productivity-wise to soldier on without regular breaks.
Exercise, take a walk, a yoga workout will all help. Exercise releases endorphins, magical feel-good hormones that will sustain energy levels and make you feel better.
Set regular bedtimes for everyone in the household and regular waking up times.
One good tip I read was how making kids wear school uniforms whilst doing their schoolwork and, adults wearing more formal office attire, triggers recognition in the brain and sets the frame for 'work time'. This hasn't worked in my case- I'm rocking the jeans and t-shirt look! I do other things though. I have my designated 'desks' in the house for working and stick to them. One is in my bedroom, one is at my kitchen table and the other is the front room sofa when I'm writing articles or compiling marketing early in the mornings before the rest of my household awakens. The point? Have set, defined 'work areas' so that psychologically your brain shifts into 'I'm in work mode now'.
Eat well, Eat healthily. This is a biggie. Working from home can create a lot of temptations to 'nibble' and 'just pick' at snacks constantly. I have a rule in our house – no food upstairs. So, when I'm 'hotdesking' in my bedroom, I'm not tempted to constantly graze on munchies. Everyone needs a treat- just keep to regular mealtimes and regular times to have that choccie bar. Try and create meals from scratch. Frozen vegetables actually have more nutrients than fresh. You can freeze soups freshly made to have the next few days.
Um, alcohol. Yes, we should eat well and not drink ourselves silly either. A healthy way of having a little of what you fancy is fine. Try and build 2 or 3 alcohol-free days during the week. Another tip is to only have a drink at regular times. For me, this is usually at 10pm when the kids are asleep! Little known fact: During the lockdown, a number of people have managed to use this as an opportunity to continue their 'dry January' and improve their overall wellbeing at the same time.
The point is, having routines is essential to build healthy habits that become more natural. A new habit takes just 28 days to form so some of us will only have another 1 or 2 weeks and this will begin to feel oddly part of our daily routine. If something feels more 'normal' in turn this can help lessen anxiety and worry.
What about my sector – Recruitment?
For my sector, recruitment, business will continue with relative ease. Our clients and team are already conducting interviews of candidates online instead of face to face and this trend looks to continue. My team and I have been using Skype and other apps for some time as a natural part of the recruitment process to help clients and candidates. This will just continue to grow. Meetings with clients will be easier and quicker to book virtually online.
Saving fuel costs.
Saving time.
Saving the environment.
The key for recruitment businesses and companies across the board, will be ensuring internal infrastructure, IT, training are all strong, faultless and as seemless as possible. Consultants need to become more and more comfortable being 'on-screen'. That goes for employees in all offices. Online, real-time, on-time training and support, needs to be available to consultants and resourcers as and when they need support.
And what of the unemployed? What of the companies that sadly couldn't survive?
I myself was made redundant in 2009. The gutwrenching, knife twisting agony of job insecurity I understand all too well.
But know this. When the lockdown is phased to gradually open up, there will be opportunities for businesses to be reborn and for those not working to find jobs. It may take some time, but there are great, positive steps you can take to speed up your search for a new job or business opportunity.
If you are unemployed, furloughed or feeling uncertain, there is no harm reaching out to trusted recruiters who have helped you before. But be discerning. Use the people who know you as a person, not just another candidate. Contact the companies that have been busy putting positive, useful, thoughtful content 'out there'. These are the contacts and connections that will have your genuine, best interests at heart.
Be more active on LinkedIn or set yourself up on LinkedIn if you aren't already. This is the proper reason why LinkedIn was set up. To allow connections with other business and career professionals to work and help each other, forge new relationships and new opportunities.
Above all, try and be positive.
Talk to trusted friends, work colleagues, and business professionals. Keep connected.
And, most importantly, even if you are on your own, know you are not alone.
If you feel things getting on top of you, reach out. Ring a friend, colleague, family – never feel embarrassed about feeling anxious. They will probably be feeling similar anxiety and be equally grateful to share some experiences.
Human beings are natural, social creatures. Our mental health suffers when we are in isolation and on our own. Talking to one another is one key antidote to dark feelings.
We are all in this together, and together we will survive.
Our next business event will be focussing on ways to cope working from home. We will be looking at how to harness your positivity, maintain energy levels and keep motivated when working remotely. We will be announcing details very soon and have a brilliant guest speaker lined up!
If anyone would like more information on any of the points covered in this article and would like a confidential chat, you are welcome to reach me through LinkedIn, email or simply call me on my mobile 07717 412 911. Alternatively, if you have any ideas for articles or information you would like us to put together – let me know!
Be Safe,
Be Well,
Be Astute.
An article by Mary Maguire, MD, Astute Recruitment Ltd
Supporting people and business.