What inspires children can so often inspire all of us…Children's Mental Health Week 2021 1st Feb – 7th Feb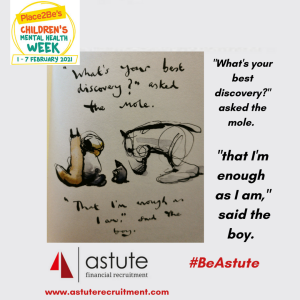 What inspires children can so often inspire all of us…
"What's your best discovery?" asked the mole.
"that I'm enough as I am" said the boy.
I love this quote by Charlie Mackesy in his award-winning 2019 book, The Boy, The Mole, The Fox And The Horse.
My son was given this book to inspire him and all the then year, 6 pupils, in his school.
He's kept it.
The other day, he came up to me in my upstairs bedroom (aka 'office' 🤣) and said,
"Mum, this is a really great book!".
"Can I have a read?" I asked.
" 'course you can Mum, but I want it back!"
Half an hour passed in the blink of an eye as I read beautiful and moving pearls of wisdom. Whilst written a couple of years ago, this is a timeless, wonderful book for kids and adults alike.
The gentle words wash over you, giving you a warm hug of reassurance.
And we all need a hug right now. ❤️❤️
Thank you Ashbrook Junior School!
Thank you Charlie Mackesy for creating such a heartwarming, wise and beautiful book.
A book for the best of times, and the hardest of times too. It's a brilliant book to recommend to all those parents working from home for their children, especially during this special children's week dedicated to raising awareness of child mental health.
It's a beautiful, and rare book that can befriend a child and also captivate adults too.
A lot of parents are struggling to juggle their work and jobs from home whilst overseeing their children's schoolwork at the moment. As a parent and an employer of staff with children, its really important to highlight and recommend great opportunities to help hardworking parents reassure their kids.
There is a great organisation called Children's Mental Health Week
where you can access a video from their Royal Patron, HRH The Duchess of Cambridge's video message to mark the start of the week.
Their Virtual Assembly with BAFTA and Oak National Academy is now available to view and share – featuring Jodie Whittaker, Oti Mabuse, Matthew Lewis, and many more…
If you would like to read more articles and posts on employment, recruitment, careers, mental health, and more, please follow Mary and our company page for Astute Recruitment Ltd on LinkedIn and Facebook.
Mary Maguire
Managing Director
Astute | Accountancy & Finance | HR | Office Support

Suite One, Ground Floor West, Cardinal Square, 10 Nottingham Road, Derby, DE1 3QT
T: 01332 346100
M: 07717 412911
E:  mary.maguire@astuterecruitment.com
LI:  https://uk.linkedin.com/pub/mary-maguire/18/73/553
LI: www.linkedin.com/company/astute-recruitment/