What attracts great candidates, builds trust and cements client relationships?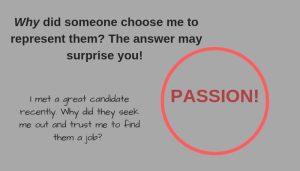 I met a great candidate the other day.
I like to understand why people looking for work reach out to me specifically.
So, I asked him.
He said that when he was using me to hire an accountant last year, I was so passionate about one particular candidate and confident in that person's ability that I staked my professional reputation on the line to give that person a chance of an interview. I came across as genuinely understanding that particular accountant's skills, experience and strengths. I also came across as genuinely caring about that person.
"Now that's the sort of person I want to represent me" he said. "Someone who can passionately, professionally and rationally present me as a professional person and not 'just another CV'.
Someone who genuinely 'gets me' as a candidate and who truly has my interests at heart and not just hitting their monthly sales target."
What better way to sum up a recruiter's role in the 21st Century?