We've counted the miles! Where have our team reached? Our latest update on #miles4meals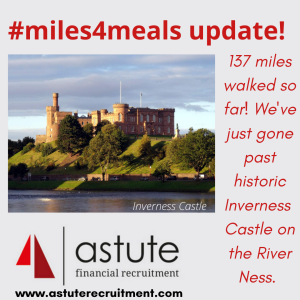 We started our #miles4meals journey last Monday.
The figures are in and we're delighted to announce that in just 7 days we have covered a total of 137 miles!
Our virtual journey from John O'Groats to Lands End has so far seen us travel from the beautiful peaks of Scotland, down past the historic Inverness Castle.
We're now well past our first check-point in Inverness.
Wonder where will be next week?