We're hiring!
A change in your career is always a critical decision to make. Especially within the world of recruitment. If you are a successful consultant, why would you want to move from your existing employer and team?
It could be that due to a change in circumstance you are looking for more of a work/ life balance, and an employer who knows that if you need to leave early you will make up the time on another occasion.
It may be that post-pandemic and lockdowns, your leadership team are placing unrealistic targets and pressures on you to harass your clients and candidates to 'force' a win, rather than allowing the natural flow of a recruitment process preferred by hiring managers and job applicants.
Perhaps you are feeling dissatisfied with the culture and team where you are working. The 'fun', 'banter' and 'excitement' of working in a passionate team seems to have gone missing?
Astute Recruitment Ltd was set up by two friends, and former colleagues, Sarah Stevenson and Mary Maguire, who happened to share a passionate belief that candidates and clients should be treated equally and fairly, but so should the recruitment consultants and teams representing those candidates and clients.
They wanted to demonstrate to a wider audience that there are professional recruitment specialists in the world of accountancy recruitment who value people and integrity more than just a 'quick fee'. Their passion for recruitment saw Astute Recruitment Ltd progress from a small, unknown agency to become one of the top 'go to' financial recruitment specialists in the East Midlands. Unrivalled with over 15 business awards, and currently finalists in the East Midlands Chamber 'Enterprising Women's Awards' Team of the Year category – they could have another award win under their belts in October!
Established nearly 12 years ago, Astute has enabled numerous consultants to train from entry level roles in the business and to go onto secure several promotions. None more so than Sarah-Louise Wykes. Sarah-Louise started at Astute following a successful career in accountancy and began her career at Astute as a Trainee Recruitment Consultant. In 4 short years she was promoted 3 times to become Associate Director. Earlier in 2021, Sarah and Mary were delighted to reward all Sarah-Louise's hard work officially making Sarah-Louise a Director!
Your future career options at Astute are neatly displayed below in an infographic.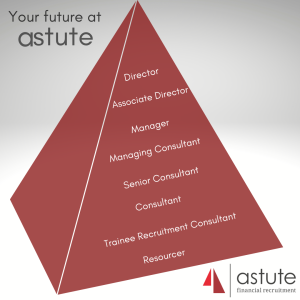 The pandemic has taught many of us that in life you cannot take anything for granted. It has changed the working lives and work/life balance between the office and home, perhaps forever. Never has there been a more exciting time for a recruitment company to really harness true partnerships within the business communities through trust and integrity. Those are the values that set Astute above and beyond more national, impersonal agencies. They take the time to provide the 'human touch'.
Through established recruitment relationships spanning two decades – Astute Recruitment's owners have been able to maintain these friendships and increase their market share considerably in the last 2 years.
Now, as businesses have learned to navigate remote and agile working practices, Astute are in a position to grow their teams further and expand at what is a really exciting moment for the company.
Sarah had this to say, "Mary and I are really excited to resume our plans for growth after having to put our strategy on hold during 2020. We are looking for like-minded recruitment professionals  or for trainees who are keen to get involved, learn and develop in the recruitment sector. Maybe like Sarah-Louise they can also aspire to promotions and future growth too!"
So if you value working as part of a collaborative, winning team who want to have fun but also work hard – why not contact Sarah Stevenson or Mary Maguire and they will be delighted to have  confidential meeting or conversation with you.