Triple-Point Guarantee Testimonial – Mayfield Yarns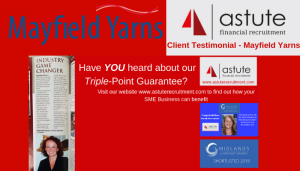 Triple-Point Guarantee Testimonial – Mayfield Yarns
"As a highly regarded SME manufacturing specialist with a reputation for excellence, it was key for my senior management team, Finance Director and I to utilise a local Derbyshire accountancy recruitment specialist specifically working with other SME businesses. With a proud reputation for staff retention having had long-serving staff for 15+ years, I needed a new Qualified/ Qualified By Experience Accountant to assist me covering all aspects of manufacturing accounting including costings. I also needed someone with the experience to provide robust figures across the balance sheet and profit and loss for the Group FD based in Yorkshire. It was also incredibly important to get someone who would understand the quirks of our specific business, office set up and commit to us for the long-term.
After searching online – I came across Astute Recruitment Ltd. Their website, branding, and awards convinced me of their pedigree and focus specifically towards SME Businesses and I gave them a call.
I had a great initial conversation and arranged a meeting with Andy Lilliman – Senior Consultant and Mary Maguire – MD of Astute to understand their service and approach.
Myself and the Group Finance Director were very impressed, particularly when they explained their unique Triple-Point Guarantee. In return for exclusivity, signing and agreeing on specific dates for shortlisting CVs, first and second stage interviews – we were delighted to have the full focus of Astute's team.
The Group FD and I did not want to engage with multiple agencies and have a raft of CVs and phone calls from other recruiters. Instead, we welcomed Astute's dedicated approach in only shortlisting and sending us the most relevant, qualified candidates who matched our criteria.
Scroll forward four weeks and we have appointed a terrific candidate who was immediately available with the breadth of experience we were looking for, who also had the perfect fit for our own team, culture, and business.
I'm delighted with Andy and Mary from Astute and would thoroughly recommend them and their team. Their Triple-Point Guarantee offering also worked beautifully to ensure a smooth, efficient service with a guaranteed outcome."
Ian Brindley
General Manager – Mayfield Yarns