Top 5 Skype Interview Tips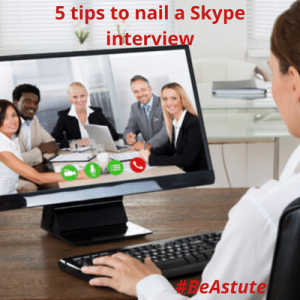 With more and more workplaces cancelling meetings and face to face interviews, companies are increasingly turning to Skype and other media to play an increasing part in the recruitment process.
Here at Astute, we thought this would be more crucial than ever. An online interview can either be audio or visual but most employers prefer Skype, where a potential candidate can be interviewed 'remotely'. As with any interview in person, there are do's and don'ts that every candidate should know.
Below are 5 Skype interview tips to help you nail that job: –
1.Dress the part: You might not meet your potential employer physically in person, face to face, but you will still need to dress professionally. Your interviewer can still see you and of course, you can see them! Make sure you have a chosen outfit ready for you to wear the night before.
2. Don't be late! Be ready an hour earlier so that you can prepare in advance. As with any interview you need to ensure you have allowed plenty of time to become calm. Make sure all radios, TVs and mobile phones are set to silent at least 15 minutes before your interview begins so there is no distracting background noise.
3. Ensure your network is working! Make sure your computer and network are functioning well. Test your microphone and camera beforehand to prevent glitches. The last thing you want is to just log in to Skype and find that you can see your interviewer but cannot hear them or vice versa!
4. Setup your environment and surroundings to look professional. Create a clean, tidy background that represents your organisational skills. Sounds obvious, but make sure that the view of your area behind you which your 'interviewer/ interviewers' can see looks ordered, clean and clear.
5. Focus on the camera. Tricky one this – as the natural tendency is to look someone in the eye, whether on screen or face to face. On camera, on an online interview, this means you having to look straight into the camera as a way of keeping eye contact with your interviewer and NOT looking the person you are talking to directly in the eye on the screen. Our advice? Practice, practice, and practice again. You can ask a friend to be on the other end of the camera as a practice Skype interview exercise, allowing you to practice this in real-time. Even better, get your friend to ask you proper interview questions.