Todays the day! Our team launch our Miles 4 Meals campaign to raise money for Food Parcels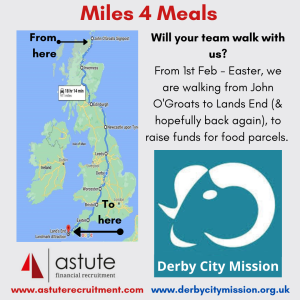 All of us at Astute Recruitment Ltd are delighted to announce that today, 1st February 2021, we are launching our Miles 4 Meals charity campaign!
Our team will be 'virtually' walking the 911 miles from John O'Groats to Lands End, and if we can walk back again!
We find ourselves in unusual times. Many more people, families and children are struggling with financial problems. We also have a climate of increasing mental health and anxiety issues due to the latest Lockdown restrictions and hardships caused by COVID.
All of us at Astute, wanted to help, so we're launching our #Miles4Meals campaign. From Monday 1st February until Good Friday on the 2nd April, our team will be using our lunchtimes or spare time to walk, run and cycle the 911 miles from John O'Groats to Lands End, and hopefully back again! If you can, please help us with our goal.
*The Government's current advice is people can exercise for up to one hour a day and observe all COVID social distancing guidance. We can still all clock up a few steps in an hour though!
On virtual arrival to Lands End, Astute Recruitment will donate £500 to Derby City Mission & this amazing cause.
If we can get back to John O'Groats, a roundtrip of 1822 miles, Astute will double their donation to £1,000 for Derby City Mission, our chosen charity.  
Every mile covered will raise funds for Derby City Mission who will be using the money to make up much-needed food parcels for the vulnerable.
We'll be highlighting a series of tips and advice around Mental Health, how important the link between good Mental Health and physical wellbeing is across our social media channels.
We'll share photos and updates on our progress along the way. Follow our story too and add your own photos and posts if you are taking part!
If you and those in your team would like to join us or just sponsor us for our journey, please email Mary Maguire or Tom Norton, confirming your name, job title, and which company you are from and we will send you more information.
Join us on our charity walk and help raise funds at the same time too!