The Dark Side of key dates in the year. Why we all need to be mindful of work colleagues, friends and family every day.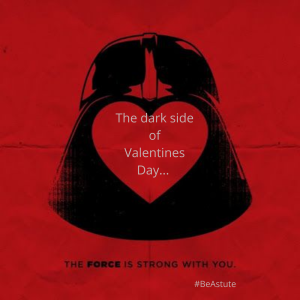 The social media and pressures in general forced upon someone who was actually very fragile, resulted in tragedy for Caroline, her friends, and family.
Her death also served to highlight as a warning for all of us that whilst dates in the year like Valentines Day have typically become a day of 'lurve', joy and celebration, there are a whole lot of people for whom these dates float around bringing them dread.
Relationships can and do break up.
Many people, find occasions like the 14th of February hard to deal with as they are single, having relationship difficulties or just 'in-between' relationships.
Some will be very happy in their own company too.
Mary writes in her piece that
"Whilst happily married, I've known times before I met 'the one' where I delighted in my own company, and times I felt genuinely lonely, feeling a bit out of the loop if Valentines Day coincided with one of those periods.

My point? It's easy to feel that you should comply with the herd. In this case, the schmaltz churned out by any kind of media or peer pressure.

So, whatever your relationship status, celebrate the fact that you, yourself, are great! Allow yourself to feel happy whether you are single, married, or other. Most of all, be mindful that today and every day, there may be work colleagues, friends and family who may be finding it tough and who would appreciate some love of the friendship and empathy kind."

This is such a huge topic and one that employers everywhere and anyone with work colleagues need to be mindful of. Not everyone may be in the 'happy' place you are in, but a friendly smile, gentle touch and warm words of encouragement can go a long way in helping someone step away from dark thoughts.
To see other posts and articles by Mary, you can view her LinkedIn and Follow Mary on https://www.linkedin.com/in/mary-maguire-55307318/ 
You can follow our company LinkedIn page by clicking HERE and just selecting "FOLLOW"