The Chancellor's Autumn 2017 Budget. Thoughts for SME Businesses from our MD published in East Midlands Insider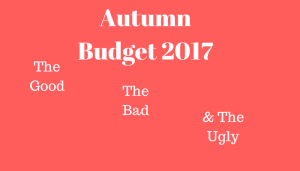 One of our MDs was asked by East Midlands Business Link to comment on the Autumn statement made by the Chancellor yesterday. The article published is as follows: –
"Mary Maguire, MD of Astute Recruitment, said:
Philip Hammond certainly laid out some positive steps to help UK businesses in today's budget.
For example, this budget demonstrated a commitment to investing in scale-up businesses, which was very positive. The proposed new fund for scale-up businesses is great news provided this funding is made available to every relevant start up in every corner of the UK.
The Chancellor also recognised that small businesses are under great pressure at the moment. The announcement that he won't reduce the VAT threshold for small businesses from £85,000, and will bring forward the uprating of business rates based on the CPI inflation index by two years was most definitely music to most business owners' ears. This was a serious concern to many start-ups and SMEs.
The National Living Wage rise is, of course, good for low wage individuals. However, SMEs will be under pressure to honour this and this could further impact inflationary pressures in the economy and affect the tight margins between profits and losses.
The Chancellor's 12 month extension of the National Productivity Fund is also welcome news. Digital and high tech businesses will be greatly helped, especially in that growth phase from start up to scale up.
However, it would be great if there could also have been some incentive for businesses to be kept in UK ownership post start-up, rather than just have the UK as a seed facility for overseas owners to come in and buy them out.
The announcement of the OBR's downward economic growth forecasts could be bad news. However, we partially talked our way into negative mindset in the 2008 recession – the OBR has been wrong before and Brexit is not predicated to be a financial disaster especially when the terms of trade deals with Europe are yet to be finalised.
Having spoken to MDs and FDs in local successful SMEs in the last two days I can report that uncertainty is what is holding back companies' capital investment and strategic plans. Perhaps this was a missed opportunity to present a more balanced forecast and build and inspire some confidence. The rate of growth for East Midlands businesses, nationally, has outperformed vast tracts of the UK including London – but strangely an opportunity to balance this with the OBR's projections in today's Autumn Budget was missed.