The 5 key things for financial, professional and emotional success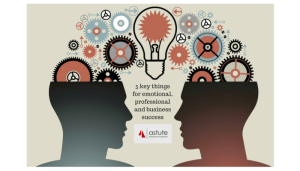 I was asked to put together some words for Recruitment International and TheBusinessDesk.com a few months back. While adding some new content to my company website I chanced upon this article again. This advice is for anyone considering starting up his or her own business and is an important reminder for anyone currently running an SME.
Be positive and honest
If you have a great business idea, pursue it! You never know where it can take you. Remember to be a doer not a watcher. When we were made redundant in 2009 I was devastated for a couple of days before asking myself: "What am I going to do now?" I knew I was skilled in my sector and I knew I had a great reputation. It seemed clear to me that I should set up on my own and so I approached my now business partner who I trusted and had worked with for several years.
Surround yourself with talented people and keep hold of them
Staff recruitment, retention, training and motivation are all absolutely key to any successful business. Any organisation is only as strong as the staff it employs. Everyone in a business is important and needs to feel fully engaged, on board and valued by their firm. Remember that you need to have some fun too and always reward success. On this topic, we will be hosting a business breakfast event on Emotional Intelligence For Business Success on 13 October. This will cover key reasons why the emotional intelligence and wellbeing of employees is key in every workplace.
Remember that cash is king
It is a brutal fact that even if you have the best business, product or service in the world; without money in your bank account you are unable to pay your suppliers, creditors or staff – let alone yourself!
You need to have a firm but fair approach to cash flow management and a constant eye on your bottom line, all of the time, not just at the end of the month or quarter! You need to scrutinise your debtors and maintain a strong and clear line of communication with your creditors to ensure you and any business partners are always on top of your current cash position.
Truly understand your business
You have to know what makes your business unique and what makes your specific service or product stand out. You should have USPs, which set you apart from your competition such as our unique Triple Point Guarantee. Consider new USPs you can offer and constantly ask yourself: "How is what I am doing now benefiting my business? Is what I am doing now the most effective use of my time?" Remember to work on your business NOT just in it!
Engagement is key
Social media is constantly evolving alongside all methods of communication, branding and marketing. To support your business, you need to constantly and consistently engage with your target audience in a meaningful, educational and non-confrontational way. Your business needs to be synonymous with quality and professionalism. Think about what messages you, your team and your social media channels are communicating about the brand and business.