Temporary change to Astute Recruitment's contact telephone number.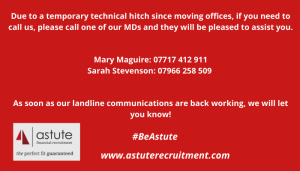 Due to a temporary, technical hitch since moving offices, if you need to call us, please call one of our MDs and they will be pleased to assist you.
Mary Maguire: 07717 412 911
Sarah Stevenson: 07966 258 509
As soon as our landline communications are restored, we will let you know!