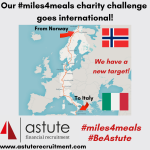 Due to achieving our goal ahead of time, our #miles4meals charity challenge goes international!
Following the remarkable support from the local business communities in the East Midlands, our band of candidates, clients and colleagues have successfully completed a round trip from John O'Groats to Land's End and back again in just a few weeks! We still have a month of our challenge left and are keen to raise […]
View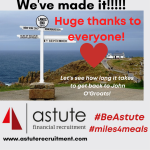 We've made it! Our #miles4meals breaking news – We've reached Land's End!
Some numbers we're really proud of! 911 Miles 21 Days Over 30 companies and their teams Over £500 raised Four and a half weeks left! Today, Monday 1st March, we have achieved our initial goal of walking, running, and cycling from John O'Groats to Lands End. What an achievement! When we launched […]
View