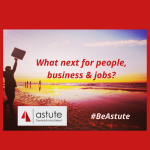 What next for people, business and jobs? Support and advice to employers and workers.
An article by Mary Maguire, MD, Astute Recruitment Ltd Everyone everywhere has been touched, affected and humbled by the unfolding events. From Miami to Mumbai, from Derby to Damascus. Politicians, scientists, and medical experts update us daily on our national progress 'beating the curve', what steps […]
View
Getting that Groundhog Day feeling? Same old job. Same things. Year in. Year out?
With Christmas round the corner and the realisation that another year is over, families will be getting together recounting the year gone by and looking ahead to 2018. Christmas also affords some time to reflect on aspirations – personally and professionally. Many try and quit bad habits. A lot vow to keep attending that expensive […]
View