Its amazing what can be achieved when people work together. How a Derbyshire village bravely showed the way in another pandemic.
In 1666, around 800  Derbyshire people chose to sacrifice themselves, in order to save the lives of thousands of strangers. Could you have done that? Let's step back in time to 1665. Why is the small, Derbyshire village of Eyam significant? In the words of a Victorian local Historian William Wood… "Let all […]
View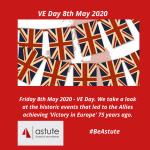 Friday 8th May 2020 – VE Day. We take a look at the historic events that led to the Allies achieving 'Victory in Europe'.
Astute Recruitment Ltd explores VE Day 2020 uncovering the historic events that led to VE Day 75 years ago Today people in countries across the globe are fighting a very different war with a very different foe. Fitting then that on the 8th of May 2020, we celebrate VE Day, but not […]
View
How to reward your team for success
The team at Astute have worked so hard in the last twelve months, so Sarah Stevenson and Mary Maguire are delighted to take Astute's team down to Silverstone and hopefully see Lewis Hamilton work towards securing Pole Position for this weekend's British Grand Prix. Photos of the day to follow next week! "Reward success […]
View