Keep calm and eat pancakes! How to make the perfect pancake every time!
We've done a fun straw poll in the office to see how people like their pancakes. Sarah Stevenson – 'Lemon and sugar all the way!' Mary Maguire – 'Thin with a generous drizzle of honey' Sarah-Louise – 'Lemon and sugar for me!' Tom Norton – 'Smothered in maple syrup and bacon' Prize for weirdest preference […]
View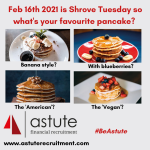 5 'astute' pancake recipes for Shrove Tuesday 'AKA Pancake Day'! – Whats your favourite?
Pancake day always falls 47 days before Easter Sunday and this year it's on February 14th. As our team is busy walking, jogging, and cycling from John O'Groats to Lands End for our #miles4meals charity quest – they need all the energy they can muster, so here are 5 great recipes that they and you […]
View