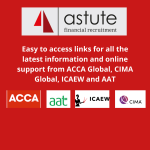 Part-Qualified and Qualified accountants can access lots of information in self-isolation or while working from home.
CIMA and all the professional Accountancy bodies including the ACA/ ICAEW and ACCA and AAT are working hard to ensure that their members have access to useful training courses. At this unprecedented time, we feel that this is great for all qualified or studying accountants to keep motivated, keep challenged and keep growing! Yes […]
View
Change is different, but together we can adapt to new ways of working remotely. An Article by Mary Maguire.
In the current crisis, discover how remote workers can add value in your business & how to make this happen Change is different, but together we can adapt to new ways of working In the current crisis, businesses across the land are struggling to keep apace with developments. […]
View