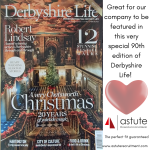 How to boost your employer brand and achieve success!
After 12 years in business, Astute Recruitment Ltd has become one of the premier accountancy recruitment businesses in the East Midlands. We're also the only East Midlands recruitment expert to have secured over 15 business awards as finalists or winners. You can see some of the awards our team and Directors have received clicking on […]
View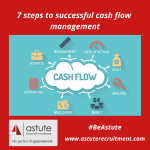 7 astute steps to successful cash flow management by an expert!
Cash is King! Having an accurate measure of your company's cash is always critical, now more than ever. Here at Astute, as part of a new series of articles, we are sharing 7 simple steps to guide you, in collaboration with a fully qualified accountant and […]
View
Industry Game Changer
Astute Recruitment in Queen Street is re-inventing the way recruiters are seen with a unique 'Triple Point Guarantee', which offers clients £500 in cash should their vacancy not be filled in time. The service is being offered to companies with a permanent role available which choose Astute as their sole recruiter for an agreed […]
View