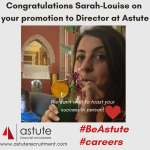 Astute promotion to Director for Sarah-Louise Wykes!
It is with huge pleasure that we can announce our long-serving employee, Sarah-Louise Wykes, has just been awarded a well-deserved promotion to Director! As part of the ongoing development of our recruitment team, it is crucially important to reward success and see the careers of good people in our team flourish. We have a clearly […]
View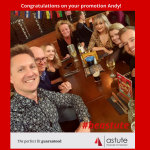 Astute Promotion! Andy Lilliman promoted from Senior Consultant to New Business Manager!
Congratulations on your promotion to Manager Andy! Much deserved! Andy Lilliman joined our team here at Astute Recruitment, as a Senior Consultant two years ago, after a deeply successful career in Accountancy Recruitment straddling London and the East Midlands. In that time he has been instrumental in the growth of our qualified accountancy […]
View
What keeps Financial Controllers awake at night & 4 brilliant tips for aspiring FCs
Here at Astute Recruitment, we recognise that the aspiring FC's of tomorrow want to learn what key challenges they will face taking the next step in their career. So, we've taken the time to signpost the 5 main challenges Financial Controllers Face and key tips on how you can gain experience to step up to […]
View