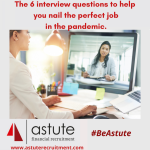 6 interview questions AND answers to help you nail the perfect job in the pandemic.
With interview requests and new jobs taken by our team at Astute Recruitment, it's great to share some pointers for candidates about to enter the job market to give them an edge on interview. Imagine, you've been selected for a job interview! Well done! It's always great news, but especially so in such […]
View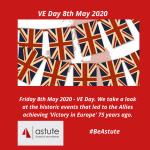 Friday 8th May 2020 – VE Day. We take a look at the historic events that led to the Allies achieving 'Victory in Europe'.
Astute Recruitment Ltd explores VE Day 2020 uncovering the historic events that led to VE Day 75 years ago Today people in countries across the globe are fighting a very different war with a very different foe. Fitting then that on the 8th of May 2020, we celebrate VE Day, but not […]
View
How to reward your team for success
The team at Astute have worked so hard in the last twelve months, so Sarah Stevenson and Mary Maguire are delighted to take Astute's team down to Silverstone and hopefully see Lewis Hamilton work towards securing Pole Position for this weekend's British Grand Prix. Photos of the day to follow next week! "Reward success […]
View