How great leadership can inspire amazing results!
"Cometh the hour, cometh the man". Volodymyr Oleksandrovych Zelenskyy, Ukraine's president has shown that someone with limited experience as a leader, can rise to horrendous challenges with immense dignity, bravery, intelligence, and honesty. Infact, the horrific invasion of Ukraine has flagged a tale of two massively contrasting leadership styles, a David versus Goliath – not […]
View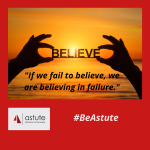 Inspiration from the front! What we need is self-belief. An inspirational article by Mary Maguire, MD.
Whilst Sarah Stevenson and I set up in '09, clearly a very difficult time, we knew we were great at what we do, confident to carry this through with just Sarah's redundancy and ultimately we believed. In ourselves and our ability to source talented accountants for local clients. We believed in our relationships. We […]
View
Feeling proud of our MD Sarah Stevenson shortlisted for TheBusinessDesk.com Midlands Leadership Awards 2018!
As featured in TheBusinessDesk.com, their Midlands Leadership Awards have been created to celebrate the people and organisations across the entire region who are role models for their teams and who have continuously raised the bar for their competitors. Those shortlisted have showcased the very best qualities of modern leadership – of inspiration, collaboration and empowerment. The […]
View