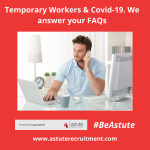 Coronavirus. We give the answers to temporary workers FAQs.
Coronavirus (COVID-19) We have put together the most frequently asked questions by temporary workers to help you keep safe, healthy and take the best precautions in the current lockdown. Q: What protective measures can I take to prevent possible contraction of COVID-19? Follow the guidelines outlined on the UK Government's website HERE. In summary, the […]
View
Change is different, but together we can adapt to new ways of working remotely. An Article by Mary Maguire.
In the current crisis, discover how remote workers can add value in your business & how to make this happen Change is different, but together we can adapt to new ways of working In the current crisis, businesses across the land are struggling to keep apace with developments. […]
View