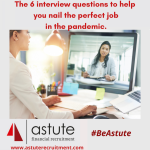 6 interview questions AND answers to help you nail the perfect job in the pandemic.
With interview requests and new jobs taken by our team at Astute Recruitment, it's great to share some pointers for candidates about to enter the job market to give them an edge on interview. Imagine, you've been selected for a job interview! Well done! It's always great news, but especially so in such […]
View
Great evening supporting IoD Student Members at the NTU's Employability Workshop
It was a great evening working working with NTU's Employability Team to provide support to the IoD's Student Members. Splitting into 4 teams each led by a business owner and member of NTU, we each advised groups of IoD Student Members on tips and how to prepare for interviews, assessment centres, psychometric tests and more. The evening was […]
View
Employability workshop – Astute Helping CIMA members and students with advice on interviews.
Astute's Mary Maguire is delighted to work with CIMA on their next employability workshop. She will be advising their members, students and non-members as to interview guidance, tips and practical things they can do to improve their success on interview. The event will be at the Village Club Hotel, Brailsford Way, Nottingham, NG9 6DL. Full details and […]
View