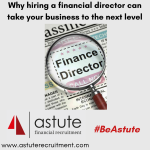 So you think you dont need a finance director? We highlight how an FD can take your business to the next level
If an SME is in good financial health without a finance director (FD), entrepreneurs are often sceptical as to whether they need to recruit an FD. Having the right people is what makes any business grow, and an inspiring finance director (FD) can contribute more than most. Yet entrepreneurs can be sceptical about hiring such […]
View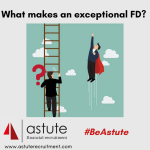 What does it take to be an exceptional Financial Director?
The remit of a Financial Director (FD) is to direct the financial obligations, and financial reporting of a business AND help drive the company forward with the senior management team. But that's the easy bit. What genuine qualities lift an ordinary FD into an extraordinary Director of Finance? This isn't about which accountancy […]
View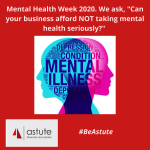 Mental Health Week 2020. We ask can your business afford NOT to take mental health seriously?
Mental Health Week Can Your Business Afford to Ignore Mental Health? We investigate the key impacts, costs, AND savings to companies of mental health at work. Mental health has increasingly been highlighted as a key factor in business and employee performance, success and productivity. This year's Mental Health Week has special […]
View