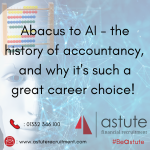 From Abacus to AI – The history of 'Accountancy' and why its a great career choice!
As a leading provider of accountancy staff, we look at what does accountancy mean, it's history and importance to businesses today. Plus we explore the huge variety of careers available in the accountancy profession, and why accountancy really is a great career choice! We've included some great, useful links at the end too! […]
View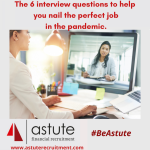 6 interview questions AND answers to help you nail the perfect job in the pandemic.
With interview requests and new jobs taken by our team at Astute Recruitment, it's great to share some pointers for candidates about to enter the job market to give them an edge on interview. Imagine, you've been selected for a job interview! Well done! It's always great news, but especially so in such […]
View