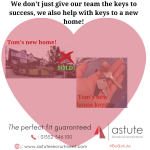 We don't just give our team the keys to success, we also help with keys to a new home!
Newly promoted for the second time to Managing Consultant, Tom Norton, has finally moved into a new home. Here at Astute we always try our best to support our team in any way we can. From our Friday pub lunch club, to our office treat box we keep topped up, we make sure we can […]
View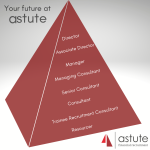 We're hiring!
A change in your career is always a critical decision to make. Especially within the world of recruitment. If you are a successful consultant, why would you want to move from your existing employer and team? It could be that due to a change in circumstance you are looking for more of […]
View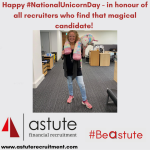 Happy #NationalUnicornDay – in honour of all recruiters everywhere who find that magical one-of-a-kind candidate!
Happy #NationalUnicornDay – in honour of all finance recruiters who find that magical one-of-a-kind candidate! Here at Astute, we have adopted our very own unicorn as our cuddly mascot! We felt it appropriate to celebrate these mythical creatures as we are always finding 'unicorns' for our clients! 😊   ABOUT NATIONAL UNICORN DAY National Unicorn […]
View