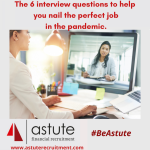 6 interview questions AND answers to help you nail the perfect job in the pandemic.
With interview requests and new jobs taken by our team at Astute Recruitment, it's great to share some pointers for candidates about to enter the job market to give them an edge on interview. Imagine, you've been selected for a job interview! Well done! It's always great news, but especially so in such […]
View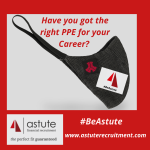 Is the job paying the most, the best one to go for? Why PPE is the true currency when looking for staff or a new job.
Is the job paying the most, the best one to go for? Why PPE is the true currency when looking for staff or a new job. The current job market is so different to any other situation. In the last economic crisis back […]
View