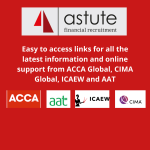 Part-Qualified and Qualified accountants can access lots of information in self-isolation or while working from home.
CIMA and all the professional Accountancy bodies including the ACA/ ICAEW and ACCA and AAT are working hard to ensure that their members have access to useful training courses. At this unprecedented time, we feel that this is great for all qualified or studying accountants to keep motivated, keep challenged and keep growing! Yes […]
View
Celebrating success at 2016's Forward Ladies Women In Business Awards!
The team at Astute were thrilled for Sarah Stevenson and Mary Maguire to have received Highly Commended SME Emerging in 2016's prestigious Forward Ladies Women In Business Awards (WIBA). The awards took place in Birmingham's superb Regency Hyatt hotel last week in wonderful surroundings. It was a real honour for Sarah and Mary to have […]
View