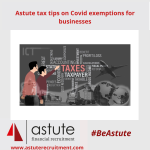 'Astute' tax tips on Covid-19 exemptions for businesses & employers
Employment-related coronavirus tax reliefs Since March last year, many interim tax exemptions were brought in to prevent "benefit-in-kind" issues arising from coronavirus-related costs incurred by employers. Here at Astute Recruitment Ltd, we felt it was important to highlight these, especially for SME businesses and employers in general who may […]
View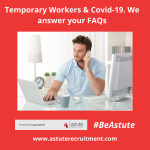 Coronavirus. We give the answers to temporary workers FAQs.
Coronavirus (COVID-19) We have put together the most frequently asked questions by temporary workers to help you keep safe, healthy and take the best precautions in the current lockdown. Q: What protective measures can I take to prevent possible contraction of COVID-19? Follow the guidelines outlined on the UK Government's website HERE. In summary, the […]
View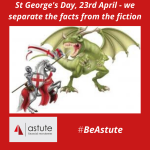 On St George's Day, 9 facts you didn't know about the patron Saint of England!
Think of St George and you're probably picturing a heroic knight, slaying a ferocious, fire-breathing dragon! As the country's patron saint, today, the 23rd April 2020 St George's story is as iconic as his white and red flag. However, like many early saints, the exact […]
View