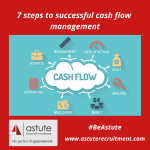 7 astute steps to successful cash flow management by an expert!
Cash is King! Having an accurate measure of your company's cash is always critical, now more than ever. Here at Astute, as part of a new series of articles, we are sharing 7 simple steps to guide you, in collaboration with a fully qualified accountant and […]
View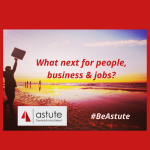 What next for people, business and jobs? Support and advice to employers and workers.
An article by Mary Maguire, MD, Astute Recruitment Ltd Everyone everywhere has been touched, affected and humbled by the unfolding events. From Miami to Mumbai, from Derby to Damascus. Politicians, scientists, and medical experts update us daily on our national progress 'beating the curve', what steps […]
View
Why cash flow is THE most important issue facing SMEs and UK PLC.
Why cash flow is THE most important issue facing SMEs and UK PLC. If the sudden collapse of Fly BMI on the weekend ignited my curiosity on this subject, the disturbing news today of JLR's £4bn losses fanned the flames. Cash flow. The lifeblood of all business. Whether an SME business or an iconic […]
View