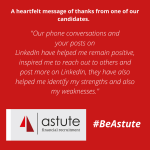 A heartwarming message of thanks from one of our candidates!
A heartfelt message from one of our candidates during the lockdown! "Thanks Mary for your words of support and inspiration over the past two months whilst I have been searching for a new role.  Our phone conversations and your posts on LinkedIn have helped me remain […]
View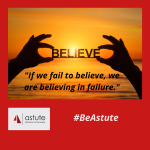 Inspiration from the front! What we need is self-belief. An inspirational article by Mary Maguire, MD.
Whilst Sarah Stevenson and I set up in '09, clearly a very difficult time, we knew we were great at what we do, confident to carry this through with just Sarah's redundancy and ultimately we believed. In ourselves and our ability to source talented accountants for local clients. We believed in our relationships. We […]
View