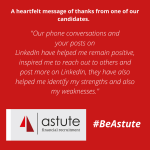 A heartwarming message of thanks from one of our candidates!
A heartfelt message from one of our candidates during the lockdown! "Thanks Mary for your words of support and inspiration over the past two months whilst I have been searching for a new role.  Our phone conversations and your posts on LinkedIn have helped me remain […]
View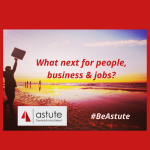 What next for people, business and jobs? Support and advice to employers and workers.
An article by Mary Maguire, MD, Astute Recruitment Ltd Everyone everywhere has been touched, affected and humbled by the unfolding events. From Miami to Mumbai, from Derby to Damascus. Politicians, scientists, and medical experts update us daily on our national progress 'beating the curve', what steps […]
View