So you think you dont need a finance director? We highlight how an FD can take your business to the next level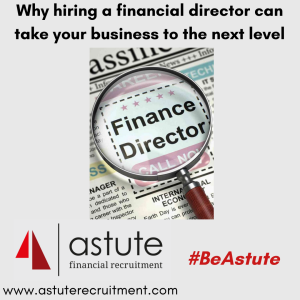 If an SME is in good financial health without a finance director (FD), entrepreneurs are often sceptical as to whether they need to recruit an FD.
Having the right people is what makes any business grow, and an inspiring finance director (FD) can contribute more than most. Yet entrepreneurs can be sceptical about hiring such a senior position.
It's not uncommon to hear, '… but my business is doing well, and I already have an excellent external accountant. Do I really need an expensive over-blown bean-counter?'
The idea that an FD is just an overpaid number cruncher, can be a self-fulfilling prophecy. If an entrepreneur sets out to recruit a glorified accountant, that's what they're likely to get. In fact, an FD should be viewed as an essential part of any growing company's senior management team. Someone to be an expert in planning and running the business AND someone who can add a lot of commercial and operational value to a business.
The FD should be able to provide management information that a financial controller or accountant can't – information that will really help an entrepreneur make decisions. For example, how profitable an individual customer relationship is compared with others, so they can focus on the customers that really count.
Management information and advice from an FD will also help a company with its external negotiations. Once an entrepreneur gets his or her hands on solid information about changes in their overheads and the cost of sales, it becomes much easier to agree price rises with customers and ultimately protect profit margins.
FDs can also provide advice about which business opportunities to pursue. For instance, if an acquisition is on the cards, an experienced FD will be able to help assess the right target, negotiate and seal the deal, and then help bring the two businesses together. An FD should be a dynamic leader who helps a company to do profitable deals and put processes in place to make sure you realise that profit.
How to pick a Finance Director? 
So what should an entrepreneur be looking for if they decide to recruit a Financial Director?
First, let's look at what a good FD should already be doing and have on their cv: –
Own the numbers & be able to explain the numbers. Fully understand, and be able to explain to everyone else, how the business makes its money
A great FD will put systems in place to gather and analyse information to ensure that everyone in the business knows how profits and cash are generated, by product, service, customer, contract, geography, etc. With this knowledge, a management team can make informed decisions about which activities to focus on and which to stop.
Actively drive value in the business. Successful FDs are leaders, motivated by the desire to help grow business value as quickly and effectively as possible. They want to be influential in supporting and challenging business planning and decisions. A good FD will actually be keen to add value and if they can't, that's a common reason for them to decide to change job.
Cash is king. Understand the importance of cash flow. Securing future cash flow is critical to a company's valuation. A good FD will handle Forecasting, managing cash flow, and championing ways of optimising a company's cash generation model. This could involve extending supplier terms to re-working the business model and client's payment terms. (i.e. should the business move from short-term contracts, with unreliable payments, to a long-term, regular recurring revenue model?)
IMPORTANT: If you are looking for a future exit strategy, an FD or CFO will often be interested in some sort of equity in return for their longer-term commitment right through to sale. This means it will be directly in the FD/ CFO's interests to do a great job and stay in the role.
Be forward-looking. An FD should help the business plan ahead by providing analysis, insight and challenge to help the management team evaluate the company's options for the future. They should help the business pitch their budget at the right level – making it challenging but achievable and then make sure this can be reported.
Good with detail as well as the big picture. Great FD's are adept at contributing to strategy, but also want to get into the detail to ensure the information being used around the business is absolutely correct.
Be intelligent, qualified, experienced, and ambitious. Entrepreneurs should look for someone with a professional qualification and experience working with respected people. Another good sign is when a Finance Director maintains a network of professional contacts who can help them keep abreast of the latest industry developments.
So, while a growing, entrepreneurial business may have coped without a Financial Director up to now, and feel they can carry on without one, they run the risk that limited senior management expertise will actually hold back the growth of the business.
The very thing most important to the business owner.
With the right FD at the helm, growing companies will make better-informed decisions AND have the support to lead the company where the owners want to take it, whether that means a trade sale or towards extra PE investment.
If you are considering hiring an FD, CFO, or FC, and woud like some confidential advice around the best options available, please contact Mary Maguire, who will be pleased to help you.
Mary Maguire
Managing Director
Astute | Accountancy & Finance | HR | Office Support
Suite One, Ground Floor West, Cardinal Square, 10 Nottingham Road, Derby, DE1 3QT
T: 01332 346100
M: 07717 412911
E:  mary.maguire@astuterecruitment.com
LI:  https://uk.linkedin.com/pub/mary-maguire/18/73/553