Our #miles4meals goal is in sight! Derby to Exeter in just one week.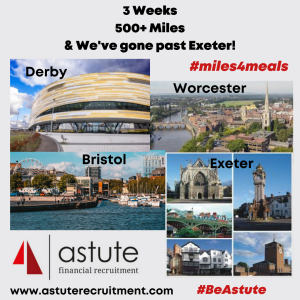 Our growing band of walkers, cyclists, joggers, and runners have excelled themselves!
In week 3, we have covered over 500 miles! Taking us down past Derby, through Worcester, Bristol, and finally past Exeter!
When we started planning this event, we were unsure we would make it to Land's End, now we are just wondering when we will get there as we haven't got far to go.
We are wondering if we will get to Land's End this week!
Huge thanks to all of our clients, candidates, and of course our team for helping us make this a brilliant adventure already.