On International Men's Day huge thanks to our very own team of men raising £585 for their Movember charity challenge!
Happy International Men's Day to all the men in our lives including our team of wonderful blokes who have raised £585 so far on their #Movember2021 charity challenge!
November 19th is an annual celebration for the positive value men give to the world, their families and wider communities.
The day serves to recognise positive role models for men and importantly raise awareness of men's wellbeing. One of the key aims of International Men's Day is to promote gender equality for men AND women, but also to improve gender relationships too.
Lets celebrate this year's theme for 2021 – "Better relations between men and women".  You can check out more information about International Men's Day on https://internationalmensday.com/ – this website is sponsored by Dads4Kids Fatherhood Foundation.
Set up in 2002, the organisation aims to "turn the tide of fatherlessness and to empower and encourage fathers around the world.  The mission of the Fatherhood Foundation is to improve the well-being of children by increasing the proportion of children growing up with engaged, caring committed and loving fathers.
Dads for kids works with the founder of International Men's Day, Dr Jerome Teelucksingh, but also supports and works with fatherhood groups around the world. They provide united efforts to celebrate manhood and the positive contributions men make to society.
Here at Astute we have several men – from fathers, sons, uncles and brothers.
So happy International Men's Day to all of you!
Several of the above deserve an extra special thank you as all through November they have been getting up at the crack of dawn to swim, cycle and run to raise money for their Movember2021 charity fundraising challenge.
They have hit over £600 and you can view our #Movember2021 fundraising page on the link below and make a donation!
All money raised will be going to help support men's mental health.
https://uk.movember.com/team/2412581?mc=1&utm_medium=share&utm_source=dynamic&utm_campaign=copy-clipboard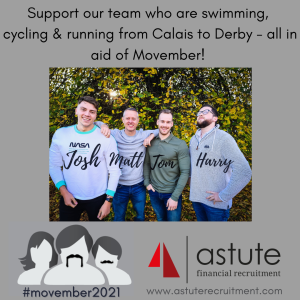 Photo of our Movember Men raising money throughout November!
Well done!
From left to right: Josh Dunn, Matt Morgan, Tom Norton & our team captain, Harry Langridge!