Now the nights are drawing in how to keep your fitness on track? Local, Derby owner of Santinos Gym, Kim Santino shares some expert tips with Astute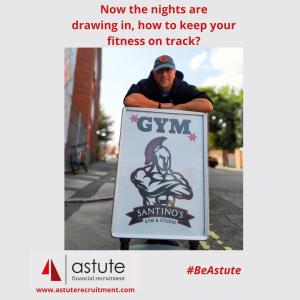 Now the nights are drawing in, how to keep your fitness on track? Now more than ever it is key for everyone to try and maintain their fitness levels. Our MD, Mary Maguire, discussed this very point with local, Derby Gym owner and multi-award-winning Body Builder, Kim Santino. Hence this collaborative and useful article was put together.
Over to Kim telling us more about his gym and the amazing contribution his Boxing Academy makes to support young people in our communities around Derbyshire.
"I'm Kim Santino, I'm 61 years young and a competitive bodybuilder.
I am very proud of my Gym, Santino's Gym and Studio in Derby, which we opened just 4 years ago. Yes, its hard work and very long hours but it is so rewarding!
Each piece of equipment was hand-picked to hit every body part from all angles and installed lots of cardio machines in the Studio for that all-important heart-pumping exercise. Adding our Boxing clubs was the icing on the cake. Our Boxing Circuits are a killer, well not literally 😊, but it's the Boxing Academy we are particularly proud of. It supports young people in the community, giving them the mindset and confidence to stand up to bullies and the discipline and focus to avoid bullying behaviour.
Many years ago, I ran Karate Schools and achieved 3rd Dan Black Belt status but the desire to put on a little weight to enhance my performance led me to join a Gym.
I found my strength improved week on week and along with that, my confidence too.  Continuing with both, however, would have been counterproductive so had to focus on just one and decided to see where bodybuilding would lead me.
Of my many Bodybuilding titles, gained over 3x decades, I am most proud of the ones I achieved in 2019 as I became Mr Universe, Masters Champion, Mr World Masters Champion and Mr Britain Masters Champion.
At the Gym, I'm on hand to give advice, to lend a hand with training and love, more than anything else, to see someone really making a difference to their life!
We have so many amazing transformation stories and are so proud of what our members have achieved over the years at Santino's.
'Santino's Gym, a Friendly Gym with a Hard-working Ethic'.
"How to keep your fitness on track now the nights are drawing in" – Kim's top tips
1.       Training:
The Winter months are upon us and I have always tried to impress upon people that it is so important to train hard at this time of year.
After all, Summer bodies are actually made in Winter!  What better way to make sure you get out of the house, keep fit and healthy, socialise, and make the most of those short dark days? So many gains can be made; so many improvements, all ready to hit that beach or attend that special occasion in the New Year looking and, above all, feeling your very best.
2.       Food:
Its very tempting to fill yourself up with carbs during the cold months. We certainly seem to crave them in cold weather! We all love a hearty meal, whether it be cottage pie, a hot steaming stew or lasagne, but be sure to burn off the carbs you had earlier on in the day and to reduce carb intake later on when you are about to snuggle up at home.
Remember to eat a balanced, healthy diet to make sure you are taking in a good source of vitamins and minerals but take supplements too to boost your immune system.
Kim's key takeaway!
Consistency is key and remember, that it is not just the hour in the Gym but what you do during the other 23 hours that counts too.
If you would like to find out more about a great, local, and truly friendly gym, you can visit Kim's website for Santinos Gym clicking HERE.
Mary and Kim will be putting together other tips and information around keeping fit and healthy in the coming months, including how Mental Health is inextricably linked to our physical wellbeing.