No 2 days are ever the same in recruitment. Here's why!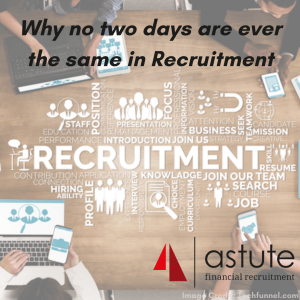 Recruitment is a funny old game.
No two days are ever the same!
From arranging interviews, and sourcing jobs,
To building confidence, coaxing pre-interview nerves to stop!
Earlier today, a young chap called back
Relaying his interview feedback
He's really keen and thanked me for the interview prep
He really wants our job and hopes he gets to the next step!
Then a qualified temp role to recruit, we needed CVs!
Onto the phones to drum up great interviewees 😊
A few calls later, we have a stellar candidate
Our client loved the profile, 'Can they start on Monday around 8?
Then its onto reference checks,
Its important to ensure our candidate's skills meet our client's specs
Now to cover for a dear colleague whose very ill,
Ensuring continuity for their clients with their jobs we're trying to fill.
Everyone is lovely and wishes our colleague all the best
So they can return soon, after having lots of rest (heart emoji)
Now its near home time for us in the office, the rest are WFH
Some are on annual leave, having a well deserved break from the phone!
Whether you're a trainee recruiter, or a managing consultant
Recruitment is a helter-skelter, helping those needing a new move to those made redundant.
The ability to help guide those starting their finance careers
As well as to help FD's and CFOs recruit amongst their peers
So if you're looking for a brilliant new accountancy recruiter
Call our amazing, happy team – we really are 'astuter' 😊
With flexible working, and happy team vibe,
Your career in our family will really develop and thrive!
We are a multi-award winning and rapidly growing accountancy recruitment consultancy. We are recruiting for several opportunities, from Trainee Consultants to experienced Senior Consultants and Managers.
If you are looking for a genuinely original, caring, and fun team, who value integrity and honesty above all else, pop an email to Mary Maguire or Sarah Stevenson.
They will be delighted to arrange a confidential time to talk to you about what we can offer.
Remember: – 
If you need to recruit
Call our team at Astute!