MY WORKING DAY – MARY MAGUIRE – MD OF ASTUTE RECRUITMENT FEATURED IN BUSINESS LEADER MAGAZINE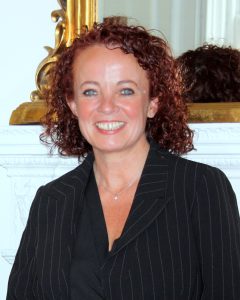 As the leader of a company, you are there to set an example, to lead and inspire a team of individuals to achieve a series of business goals. But, how do these business leaders go about their daily routine? Business Leader spoke to Mary Maguire, MD of Astute Recruitment, about her working day.
WHAT TIME DO YOU USUALLY WAKE UP?
If it's a work day I am usually up by 5.30am. If it's a weekend and the kids allow, then usually I get a lie in till 8.30/9am.
WHAT DO YOU TYPICALLY HAVE FOR BREAKFAST?
During the week I'm quite naughty, a couple of black coffees usually does the trick- the first one has to have three sugars in, after that it's Sweetex all the way.
WHAT IS THE REST OF YOUR MORNING ROUTINE BEFORE YOU START WORK?
I cherish having half an hour to have a cup of coffee, read the news online and think about what I want to achieve that day.
Then I'll head for a piping hot shower, check my hubby is awake and shoot off to work between 6.45am-7.15am. This way I can (usually!) avoid the traffic nightmare that is the A52 and get some work done before the team arrives.
WHAT IS THE FIRST THING YOU DO AT THE START OF YOUR WORKING DAY?
Probably boring and predictable but I check my emails,  WhatsApp and texts. If there is something urgent – I can address it head on.
HOW DO YOU PRIORITISE YOUR DAY'S WORK?
I'm old-school so I have a page-per-day diary where I write down the most important things I need to get done in order of urgency – once completed I cross them off or carry over to the next day. I think I am alone in this as the rest of my team have everything on their phones, but I'd be lost without my diary.
DO YOU PLAN MEETINGS OR ARE THEY A WASTE OF TIME?
I always plan meetings – I really believe in the phrase "If you fail to prepare you prepare to fail".
Even for staff 1:1's, candidate interviews, any sort of meeting in or outside of work – you need to think why am I having this meeting and what do I want to achieve? Preparing for meetings saves time, shows you care and is the efficient, professional way to maximise results.
DO YOU HAVE A WORKING LUNCH OR IS IT GOOD TO TAKE A BREAK?
This depends on the day. I always have something to eat mid-morning and use that time to get away from my desk. It is definitely a good thing to have a break – just five minutes of fresh air often yields a solution to a problem or issue.
WHEN DOES YOUR WORKING DAY FINISH?
I start early and try to get home for 6pm – when I'm at home I put my mummy/ wife hat on. There are times where there is the odd call or email I have to address in the evenings, but I try and save those precious two or three hours at home to be in the moment with my kids and long-suffering husband!
HOW DO YOU PREPARE FOR THE NEXT DAY'S WORK?
Personally – my preparation is the last thing I do before leaving the office. I look at my diary and make a note of what has/ hasn't been done – carry things forward to the next day and then I can switch off. The next time I think about the next day is the next day. This could be why I rarely have trouble going to sleep.
FAVOURITE PIECE OF TECHNOLOGY?
I hate to be predictable – but it's my Samsung smartphone. I can use it for work emails, research ideas, check the news, draft blogs and obviously keep in touch with friends, family and work contacts. I also seem to have developed a new addiction to Candy Crush – oops!
HOW DO YOU SWITCH OFF?
Spending time with my kids and husband is amazing. I also have a lifelong passion for reading and art – on a rare moment of total freedom, like to sketch and draw. I also love swimming and find that doing something like swimming or art completely takes over my mind and allows me to completely 'switch off'.
BEST PIECE OF ADVICE YOU'VE RECEIVED?
That's a hard one – I have two and can't choose one over the other, "Measure twice, cut once" and "Always treat others as you would wish to be treated". I've always believed in these two and they have served me well both personally and professionally.