More Award Success for Astute Recruitment!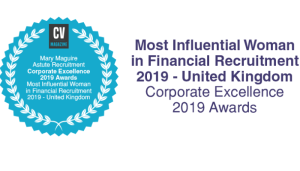 Our MD, Mary Maguire, was delighted to receive the award for "Most Influential Woman In Financial Recruitment 2019" by CV Magazine.
Here's what Mary had to say about this achievement: –
"I'm so thrilled to be awarded "Most Influential Woman In Financial Recruitment 2019″!

Those that know me, know I'm ultra reluctant to put myself forward for awards, let alone shout about them! However, pester power from Hubby, my Business Partner, Sarah Stevenson and friends have finally won the day I posted recently on LinkedIn.

My passion is sending positive messages about business, careers, and inspiration for individuals.

As a former Londoner, who moved to Derby 17 years ago, I'm proud to say my home is in Derbyshire.

I've been lucky enough to get to know so many brilliant people, whether in business or not.

The East Midlands is an amazing place. Its been brilliant to share some of the successes our region has achieved. To receive an award like this means a lot.

I hope I continue to inspire, continue to provoke thoughts and sometimes raise a smile!

Thank you if you've enjoyed my articles and posts.

I hope I'll continue to air and share content people enjoy, find useful and hopefully inspire their personal and professional success and wellbeing."
It is safe to say we are all really proud of Mary's award. It is great to see her receive an award in her own right after all the success she has achieved in securing Astute's other 15+ award wins over the years!