Mindfullness in the workplace is a hot topic for Midlands businesses.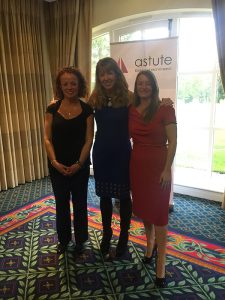 Emotional Intelligence and mindfulness are both of interest for employers and employees alike. In a bid to help Midlands business gain a better understanding of these terms, consultant Lisa Spencer-Arnell will be speaking at a breakfast event (17 March) at Alfreton Golf Club.
The event is the third business breakfast event of its kind, organised by specialist accountancy recruitment agency Astute Recruitment. It aims to help professionals gain a better understanding of how emotional intelligence and mindfulness can impact work and leadership.
Recently, emotional intelligence and mindfulness have become recognised and acknowledged as key elements of business and personal success, outstanding performance, happiness and good health, with events like this in demand.
Managing director of Astute Recruitment, Mary Maguire said: "Due to popular demand, we are delighted to be hosting our second event on emotional intelligence with guest speaker, Lisa Spencer-Arnell. Our first event on this topic was so popular among attendees that we have booked Lisa again for another breakfast event.
"We are proud to be holding this event and hope it will benefit those in attendance to gain a better understanding of emotional intelligence and mindfulness in the workplace."
Lisa Spencer-Arnell is ideally placed to explain emotional intelligence and wellness through her highly successful career as an international consultant, coach, speaker and author. Lisa's extensive work on emotional intelligence has been widely praised and recognised.
Recruitment is a multi-award winning accountancy recruitment agency offering bespoke solutions to clients and helping candidates to find suitable positions. Astute is working to create events which inspire its clients and candidates across the East Midlands.
Breakfast will be served to attendees from 7:30 am, with speakers commencing at 7:45 am and the event closing for 9:00 am
The event, which is free to attend has limited spaces and can be booked online at: https://www.eventbrite.co.uk/e/emotional-intelligence-for-business-success-tickets-31964190755