#miles4meals – our latest update with the final miles being counted from Easter, are we nearly there yet?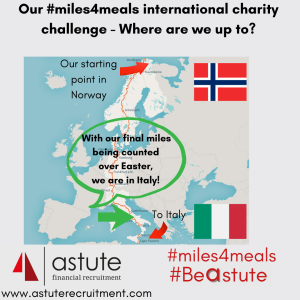 Back in the dark days of winter, our team wanted to do something different. We wanted to help inspire those wfh, furloughed and people looking for work with a target to help them with their fitness and mental health. We also wanted to provide much needed support to a local charity.
But how?
Tom Norton, one of our Senior Consultants, came up with the inspirational idea for our team and any friends of Astute who wanted to join us, to try and walk from John O'Groats down to Land's End by Easter, with all money raised going to Derby City Mission – a fantastic local charity which provides many critical services and support to our local communities including vital food parcels. Our #miles4meals charity initiative was born!
At first, our team themselves managed nearly a couple of hundred miles. Our MD, Sarah Stevenson covered 90,000 steps in just one week herself!
Slowly but surely, as we spoke to more candidates, clients and companies generally, more and more people wanted to join us. Whole finance teams rallied together, while WFH to walk, run, cycle, and jog with us. Popping us emails once a week with their mileage tally. People looking for work would look forward to their weekly catch-up with our team to give us their progress.
Amazingly, as a group we were soon covering over 1,000 miles in a single week. Our initial goal was smashed, as was our ultimate goal to make a round trip of 1,822 miles from the northernmost tip of the UK down to the southernmost edge.
Back then, with over a month to go, we decided to set a new challenge and walk from Norway down to Southern Italy, a total distance of 4,960 miles. We thought that rather than just keep going up and down the UK, we would set a challenging goal for our dedicated band of followers and see what we could achieve together for our charity.
Our team rang round more local businesses, accounts teams, HR professionals and business owners.
The result?
With a week to go we have Italy in our sights and a distance of just 1,200 miles to go.
What started as an idea just 2 months ago in the short days of February with just 9 recruitment professionals, has grown into a truly wonderful movement of people, including teams from over 72 local East Midlands companies, people WFH, people looking for work. We are truly inspired by everyone's help and are deeply grateful.
Keep an eye out for our news in the next few days when we will be announcing if we have achieved our ambitious target to get to Southern Italy, and importantly, how much money we have raised in total for Derby City Mission.
We hope that you have all had a wonderful Easter break in the meantime.
Thank you again to everyone who has supported us. Your efforts are deeply appreciated by all of us at Astute Recruitment and by Derby City Mission.