Mental Health – the 3 most important things you need to know.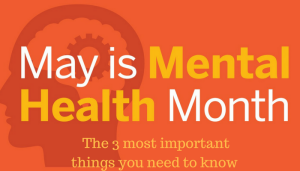 May 2017 is Mental Health Month. Everyone from Prince Harry to Brad Pitt have commented on this but so have a lot of ordinary people like you and I. For years, this whole topic has been a silent taboo. Hardly anyone has dared to raise this, let alone admit to suffering from mental exhaustion or emotional problems lest they be ostracised by their fellow workers, bosses or even closest family and partners.
This is all changing now and it has become a signature topic that has captured the attention of the masses at long last.
What are the top 3 things to know about this?
1/ Recognise the signs. Are you finding it hard to sleep? Do you find it hard to focus and concentrate on one task at a time? Is your appetite affected?
2/ Admit that you need help. Accept that this is not a sign of weakness but the first step to making you strong again.
3/ Seek different types of help until you find the one that works for YOU.
There is not 'a one size fits all' cure. Everybody is different. I know from personal experience that while therapists and psychologists are the first people we are directed towards, for me, it was more about allowing myself to explore other avenues. Allowing myself the time to pause and reflect.  Most importantly of all – allowing myself to accept that recovery from any type of mental and emotional stress is a ladder that you have to climb.  One small step at a time with people that you totally trust to confide in.
This is an issue that is so important for everyone. SME business owners, Entrepreneurs, office workers, finance professionals, the mother, the uncle, the sister or brother. Each and every one of us, in every sector and walk of life knows someone directly or indirectly affected by mental health issues whether we care to admit or not. This is something I'll be covering again soon from the perspectives of employers and their staff to highlight how everyone can work together and ensure that the momentum built up isn't allowed to fade away again.
In the meantime, if you or someone you know is in emotional distress – remember the three points above: –
Recognition
Admission
Seek help.
If this issue resonates with you – whether you are looking for work, an employee or a business owner, please let me know your comments to help me post more relevant articles on this really important subject.